Book Reviews Are In!!!
Things You Never Noticed About LOST - Raves, Rants, & Reviews
What do other people think? From every far-flung corner of the globe (and even beyond), people are checking in to speak their mind after reading the book. Here's what they have to say:
"Excellent job Vozzek, worth the wait! I haven't finished an entire book since High School. I got your book yesterday and finished it last night. Spent most the day today rifling through old episodes - especially all of the scenes noted in the last chapter." - Mike C.
---
"This book opened my eyes to many different ideas about my fave tv show. I really enjoyed the book and think it's a terrific companion to the series." - jlklepp
---
"Vozzek? I enjoyed his sodding book." - Desmond Hume
---
"Just finished reading your book. Great stuff! " - Daniel G.
---
"I didn't care for his take on me. Puppetry? C'mon now Vozzek. I'm gonna punch season six in the face, and we all know it!"- Johnny Locke
---
"Received the book on Dec 31 and I havent been able to put it down since! Great book, good job!" - Lori, MN
---
"What good is this book if we're already dead? And by the way, I still think it's Purgatory." - Ana Lucia Cortez
---
"There are things in this book that will not only surprise you, they will totally make you mark your place, get up and put in the appropriate DVD to see first hand what it is that Vozz here is talking about, and it will surprise you that you never saw, or heard whatever thing it is that compelled you to put in your DVD." - Ricky T.
---
"Vozzek! Dude!" - Hugo "Hurley" Reyes
---
"It arrived yesterday. Excellent book." - Nicholas L.
---
"I was fortunate these thirteen chapters were not set to a lethal level." - Mikhail Bakunin
---
"Your book rocks! It was great having it to read these past few weeks before the big show. I'm looking forward to your articles and your appearances on the ODI in the upcoming season." - Brooke H.
---
"WAAAAALLLLLLLTTTTTTT!" - Michael Dawson
---
"Your writing indicates that you don't believe you're recaping the show, I must disagree. I haven't ever read any theory, rumour, spoiler, or recap that indulged my senses the way your book did. I literally felt as if I was re-watching the episodes and also looking at them from completely different viewpoints. Loved the book, would of paid double." - Corey K.
---
"You got something to watch Vozzek? GO WATCH IT!!!" - Jack Shephard
---
"It's a FANTASTIC read that ANY Lost fan should want to have" - DarkUFO, Blogger Extraordinaire
---
"Great reading, especially on the can. Oh, and the toilet still works." - Paulo
---
"I've always enjoyed your postings and was excited to find out that you had written a book. I bought it right away, received it yesterday, and have finished reading it already. Just thought I'd tell you that you did an awesome Job with it. I knew I would enjoy it but it was laid out and organized even better than I would've expected, and was exactly what I needed to help me get through this painfully long LOST hiatus." - Jack P.
---
"I just bought 42 copies - one for each of the alternate timelines!" - Daniel Faraday
---
"Received the book on Wednesday afternoon and finished it by Thursday afternoon. My kids were amazed to see me reading a book, as I am soooo NOT a book reader. I loved it. There were theories that I dismissed from the first line of a chapter - that you had me believing by the end of the chapter. I am truly amazed at how much thought went into this book and cannot wait until 02/02. Vozzek, You Rock!" -Kristi A.
---
"Vozzek writin' about theories... what's next? Cop eatin' a doughnut?" - James Ford
---
"I have found the book to very enjoyable. Some of it re-hashes things that most of us know about or had already observed, but some of his observations about what is really going on in Lost are very clever, and like his previous posts, thought provoking." - Rippleish20
---
"Vozzek's book... is much good." - Jin Kwon
---
"Do you have any idea how badly I want to kill you, Vozzek?" - Man in the Dark Shirt
---
"Vozzek has not let me down! I received my signed (thank you V) copy on Saturday and have thoroughly enjoyed every thought provoking moment I have spent reading. Way to go and congratulations!" - Ohcomeonnow
---
"If I ever see Vozzek's chapter on the O6 timeline again, it will be extremely unpleasant for all of us." - Sayid Jarrah
---
"I've just finished reading the book and it's fantastic, probably the best read of any Lost book I've read and one of the best books I've read on any TV show." - DanielFaraday, 4815162342
---
"This book is like orange juice, with a considerable amount of tranquilizer mixed in." - Richard Alpert
---
"I got your book a couple days ago, and I absolutely loved it. I finished it in a few hours and was really impressed by your writing ability. I am a writer myself, and I'd say you could be published anywhere. Thank you for all the hard work you put into this and for sharing it with all of us. Great theories and observations. Any LOST fan needs to read this!" - Aaron
---
"I did not ask for the book I was given. But it was given, nonetheless." - Mr. Eko
---
"I just received your book in the mail and I am sooo excited. I can tell from just the NOT boring OR lame Introduction that I'll enjoy every page! I hope you sell 4815162342 copies! - Pam L.
---
"click...click...click...click...click...click...WHOOSH!" - The Smoke Monster
---
"Without guys like you analyzing everything, looking for every single detail, and every possible cultural connection related to our favourite show, the Lost community wouldn't be the same!" - Florian A.
---
"I hope you're happy now, Vozzek" - Benjamin Linus
---
"Remarkable work, dude. Seriously." - Brad R.
---
"Ummm.... Razzle Dazzle!" - Nikki
---
"Just got the book Monday and as with all lost related stuff you left me wanting more :) Your book is great! I had tried doing a re-watch this year but got burnt out on watching all of the episodes back to back, but your book has given me a chance to look at some of the things I hadn't noticed when watching the episodes." - Jeremy K
---
"It was awesome going back and watching all the scenes you mention in your book. I agree with you on the scene with Sayid and Henry Gale. It was creepy hearing that voice. It reminded me of the Exorcist." - Gerardo A.
---
"Dammit Vozzek, why weren't you doing recaps when I was still around!" - Shannon Rutherford
---
"Your book was outstanding. At first I was skeptical about it and what it would entail. I wouldn't classify it as a theory book though thats exactly what it is. While reading, it brought up many points that I've had on the tip of my tongue, but the way you explained it made it so clear. It was a great read and I'm very glad I made the purchase. The part that blew my mind was the Sayid interrogation in the 2nd season. I qued it up and blew my mind." - Ray F.
---
"I've got some news for you Vozzek, and you're just gonna have to take my word on this. You are NOT crazy. Maybe." - Jacob
---
"Received your book yesterday and immediately began reading it aloud to my 77 year old mother and my 17 year old daughter. Yes, three generations of LOST fans who have so enjoyed reading your postings on DARKUFO and now are so enjoying reading your book! The three of us are diehard LOST fans and appreciate all the insight you have provided for us these past seasons. Thanks for all your dedication to this awesome show and keep writing!" - Terri J.
---
"I don't know where to start. Awesome, awesome book. I was bowled over. It's obviously impossible for every theory in your book to be right on, but your enthusiastic, equal time coverage with in-depth clue analysis and supporting evidence make them all seem not only plausible but worth rooting for. The book is a perfect prerequisite and should be required reading for Season 6. It does a great service to the producers and writers of the show -- instilling a great appreciation for what they've created and serving as a reminder to not take the last season for granted." - The B-Man.
---
"DOOOOOOODDDD!!!! I am absolutely amazed!! I got thru 100 pages of your book already!!!! HOLY SMOKES!!!!! You bring up some interesting things too. My favorite is the possibility of 2 smoke monsters - that never dawned on me for some reason, but makes lots of sense." - Tyson G.
---
"I just finished your book. I have been a long time reader of your posts and was worried it might be a recap of those but took the chance. I LOVED it. Even my friends who watch lost think I'm a nerd and with your help I'm in a whole new territory. Can't wait for your posts this season!" - Thomas S.
---
New Reviews Will Be Added As They Come In...
Things You Never Noticed About LOST - Available NOW!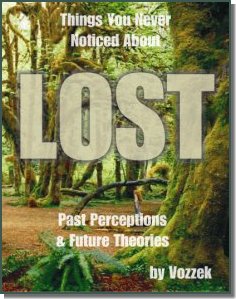 Want Me To Sign It?
Just use the Free Signature
checkbox on the checkout page.
Yup, it's true... I've written a book!
Things You Never Noticed About LOST
by Vozzek
Packed with over 250 pages of LOST thoughts, theories, and detailed perceptions on the show, Things You Never Noticed About LOST is the ultimate guide to the past, present, and future of the island.
Paperback, 7 x 5.5 in.
256 Spine-Tingling Pages
Ultra-Rad Introduction by Vozzek
Over a Dozen Mind-Blowing Chapters
Don't Start Season Six Without It!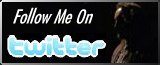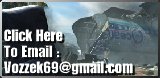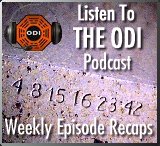 Other Kickass Websites